MIXED MARTIAL ARTS BOOK
FIGHTING FOR ACCEPTANCE:
MIXED MARTIAL ARTISTS AND VIOLENCE IN AMERICAN SOCIETY
Home |&nbsp Sherdog Press Release |&nbsp Mayhem Miller's Forward |&nbsp Authors |&nbsp Book Chapters |&nbsp Mahalos |&nbsp MMA Advocacy and Media |&nbsp Buy Fighting for Acceptance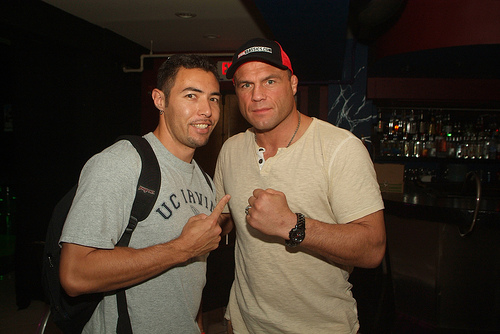 Author David Mayeda (left) with Randy 'The Natural' Couture

We interviewed some of the biggest names in MMA for this book. But we also made sure to interview fighters who were just getting started, veterans who competed before the recent MMA popularity explosion, MMA trainers/coaches, and even a few hobbyists.



How you can buy this MMA book:
This book can only be purchased online ($19.95 plus shipping and handling). It is NOT an online book. It's a normal book, but you must purchase/order it over the net.


You can now purchase Fighting for Acceptance by clicking here:

or at BARNES&NOBLE.COM, or Amazon.com.
(As an 'on demand' book, Fighting for Acceptance can only be purchased online through the net).

Dangerous Dan Henderson with co-author Dave Ching


'I have read some of the book. I think it is cool as hell!'
- IFL Star, Savant Young
Click here to go back to FIGHTING FOR ACCEPTANCE homepage.
Fighting for Acceptance interviewees:
Randy 'The Natural' Couture
Quinton 'Rampage' Jackson
Dan Henderson
Jason 'Mayhem' Miller
Antonio McKee
Guy Mezger
Frank 'Twinkle Toes' Trigg
Chris 'The Crippler' Leben
Savant Young
Travis Lutter
Chris Reilly
Tony 'The Freak' Fryklund
Chris Onzuka
Mike Onzuka
Anthony 'The Crush' Torres
J.J. Ambrose
Jesse Juarez
Toby 'Tiger Heart' Grear
Emanuel Newton
Allan Goes
Fighting for Acceptance interviewees continued...:
Chris Bowles
Jamie Yager
Paul Halme
Nolan Hong
Steven Saito
Bear St. Clair
Derek Stadler
Michael Frison
Dustin Phan
Joshua Gilley
Yoji Matsuo
Takuhiro Kamikozono
Colin Oyama
Bao Quach
Darin Goo
Robert Otani
Jason Bress
Ku Lee
Cleyburn Walker
1 annonymous interviewee